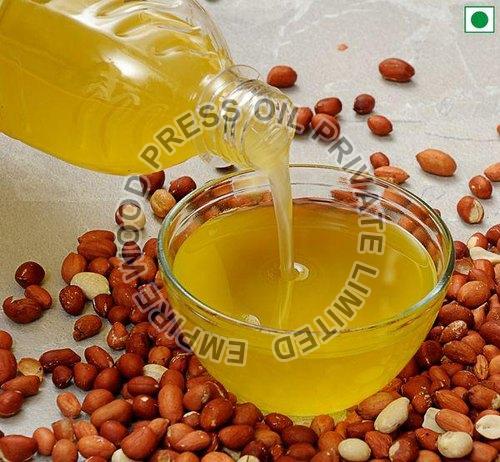 Have you ever sensed a smooth and nutty flavor in your dish? That is the delicious and aromatic flavor of a popular cooking oil called groundnut oil. This light golden-colored oil is often used in most Asian and Middle Eastern cuisines. Groundnut oil also known as Peanut oil is a vegetable oil extracted from peanuts. It is one of the fast-moving consumer goods and it is popular among home cooks and also at restaurants for its distinct flavor that makes dishes sumptuous.
This oil is mostly used for deep frying as it does not absorb the flavor of other items that have been cooked in the same oil. As a result, you can cook a variety of dishes together while maintaining their distinct flavors like assorted fritters which are quite popular Indian snacks. Also, it can reach a high temperature and make food crispy on the exterior while being moist on the inside. That's why groundnut oil is also one of the traditional deep-frying oils in the world.
It complements a wide range of recipes due to which it has become the first choice for several eateries. Though it is priced a bit higher it is reusable, it can be filtered after every use and can be used as many times. It also has a natural taste that does not alter the taste of the food which is added. Due to its reusable properties, many people choose groundnut oil for everyday cooking.
Multifarious Benefits of Consuming Organic Groundnut Oil
It contains monounsaturated fatty acids like oleic acid which increases the level of good cholesterol (HDL) in the blood. This reduces the risk of cardiovascular problems.
Groundnut oil contains phytosterols especially, beta-sitosterol which may have the ability to protect the body from certain types of cancer like colon, prostate, and breast cancer.
Resveratrol is the major component in organic groundnut oil that reacts with various hormones like angiotensin that affect blood vessels. Resveratol neutralizes the effect of the hormones which helps in decreasing the blood pressure level.
It is quite rich in vitamin E which is essential for the maintenance and health of the skin. It prevents your skin from wrinkles, blemishes, and other signs of ageing.
Vitamin E in peanut oil also helps in strengthening hair follicles and prevents dandruff.
Cooking in groundnut oil also boosts your metabolism which helps in reducing weight.
It stimulates the production of white blood cells which helps your body to fight against viral and fungal infections by improving the immunity system.
Now that you're aware of the numerous advantages of organic groundnut oil, you should seriously consider including it in your diet. It is advisable not to consume it in case you have any sort of nut allergies.
Groundnut is a vital oilseed crop in India and our country is the second-largest producer of groundnuts in the world which makes it easy for the manufacturers of groundnut oil to produce this cooking oil. Gujarat, Tamil Nadu, Karnataka, Andhra Pradesh, and Maharashtra are the major groundnut producers in the country. Out of these, Tamil Nadu alone accounts for more than 20% of the total production due to which groundnut oil production is excessively done in Tamil Nadu. There are several organic groundnut oil suppliers in Tamil Nadu who are engaged in supplying pure and superior quality oil to consumers.
Following are the important aspects to be considered by the organic groundnut oil suppliers to improve their market share-
They should source from the reputed vendors who use organically grown groundnuts procured from local farmers and use traditional methods to extract oil without adding any chemicals.
They should have a well-organized infrastructural facility that is upgraded regularly.
They should have separate departments for warehousing, packaging, sales, and marketing.
They should have a team of quality control to check the quality of oil on various parameters before dispatching.
They should offer the best quality organic groundnut oil at cost-effective prices.
Conclusion
With so many alternative cheap and unhealthy refined oil options on the market, it might be a good idea to go with oil offered by organic groundnut oil suppliers in India that provides more benefits while posing fewer health dangers.